HACCP Principle 3 - Set Critical Limits
Articles »

HACCP Principle 3 - Set Critical Limits
By Gregory Scott McGuire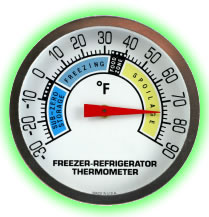 Every CCP you identified by grouping menu items into processes now must have a critical limit set for it in order to become an official part of your HACCP program. The FDA's Food Code and your local Board of Health have established time and temperature specifications for every type of food you serve in your restaurant. Research the time and temperature requirements at each CCP for each food type in every menu item you serve in your restaurant.
The most important critical limits usually involve keeping food out of the danger zone as much as possible. The "danger zone" is generally 42 degrees Fahrenheit to 135 degrees Fahrenheit, although this upper limit will vary depending on what you're cooking. The space between 42 and 135 is called the danger zone because that temperature range is ideal for bacterial and pathogen growth. The less time food spends in the danger zone, the less likely it is to develop contamination.
It's also important to remember that time plays an important part when setting critical temperature limits. For example, the critical cooking temperature for a chicken breast in a Process 2 or 3 (see Principle 2) menu item is 165 degrees Fahrenheit for 15 seconds. For Process 3 menu items, where food is cooled after being cooked, it is not enough to set a critical limit for cooling at 41 degrees Fahrenheit or lower. The food must reach 41 degrees within 6 hours, and must reach 71 degrees by the end of the first 2 hours. Consult with your local Board of Health or the FDA's Food Code for more information.
Time can also take the place of a temperature control, and in some cases it might make sense to do so. For instance, if you cook food using Process 2 and set your critical limit for temperature to be reached during cooking and then serve the food right away, you do not need to set a critical limit for hot holding. The same principle applies to some cold holding critical limits. Consult with your local Board of Health to determine exact time specifications.
So now you have identified hazards, grouped your menu items into Processes, and set critical limits for each CCP in each Process. You have gone a long way towards implementing an effective HACCP program. Unfortunately, the first three principles were the easy part (relatively anyway!). Now you have to monitor, establish corrective action procedures, verify monitoring and verification procedures, and establish a record keeping system. These last 4 steps are designed to make sure the lofty standards you set in steps 1 - 3 are actually achieved. It's one thing to talk the HACCP talk. Now you have to ensure your restaurant is walking the walk.
Gregory Scott McGuire is a regular contributor to The Back Burner Blog, a resource of restaurant news and trends written by the employees of Tundra Specialties, a company specializing in restaurant equipment, supplies, and equipment parts.